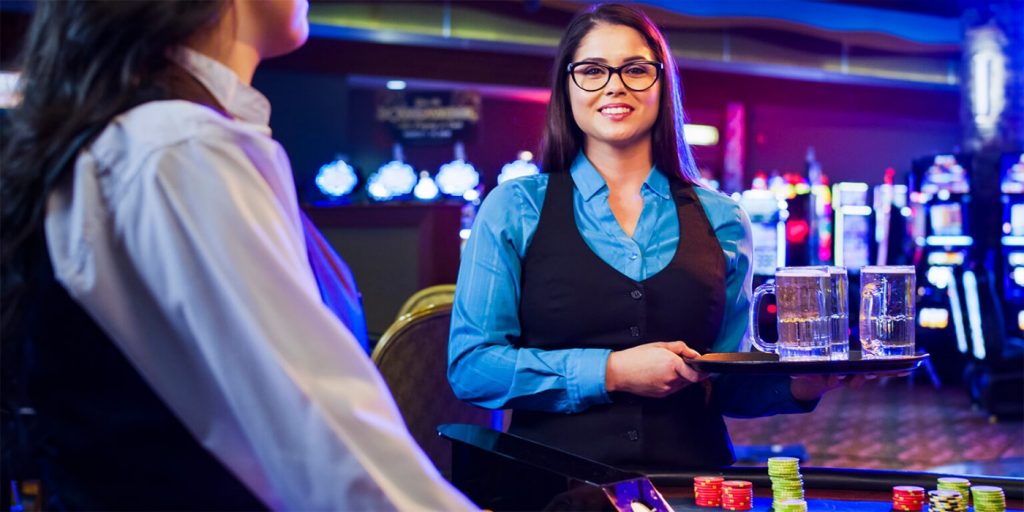 Ever wonder what it would be like to work at a casino? Maybe you enjoy gambling yourself, or you are attracted to the energetic atmosphere. The perks of working at a casino are definitely there, but so is the hard work. Think you have what it takes? Here are 8 of the most popular casino jobs and what their roles entail.
Casino Cashier
Cashiers are essential to each and every casino. Similar to cashiers at a bank, these team members manage money in the casino. They help guests deal with checks, credit card issues, wire transfers and other money issues. Cage cashiers work with guests who are ready to cash out their chips for cash and vice versa.
Security Officers & Surveillance Operators
With millions and sometimes billions of dollars flowing through the casino, security is, of course, a major concern. Security Officers are generally on the ground throughout the casino. They work with you as you make your way into the casino and often patrol the floor for any suspicious activity. They are looking for people trying to cheat, steal money or for those folk who had a little too much to drink. Surveillance operators are the eyes in the sky. They, too, look for similar activity but generally have a much better view of the casino given their strategic position. Security officers and surveillance operators often work together to keep the place under wraps.
Floor Staff
Floor staff is a blanket term to describe a variety of positions at a casino. These team members are constantly on their feet keeping the casino looking sharp and satisfying guests' immediate needs. They may include cashiers, custodians, waitresses and bartenders; and, often, floor staff cycle through these various positions to ensure a high-quality casino experience. Without many of these team members, the entire casino experience would be thrown off.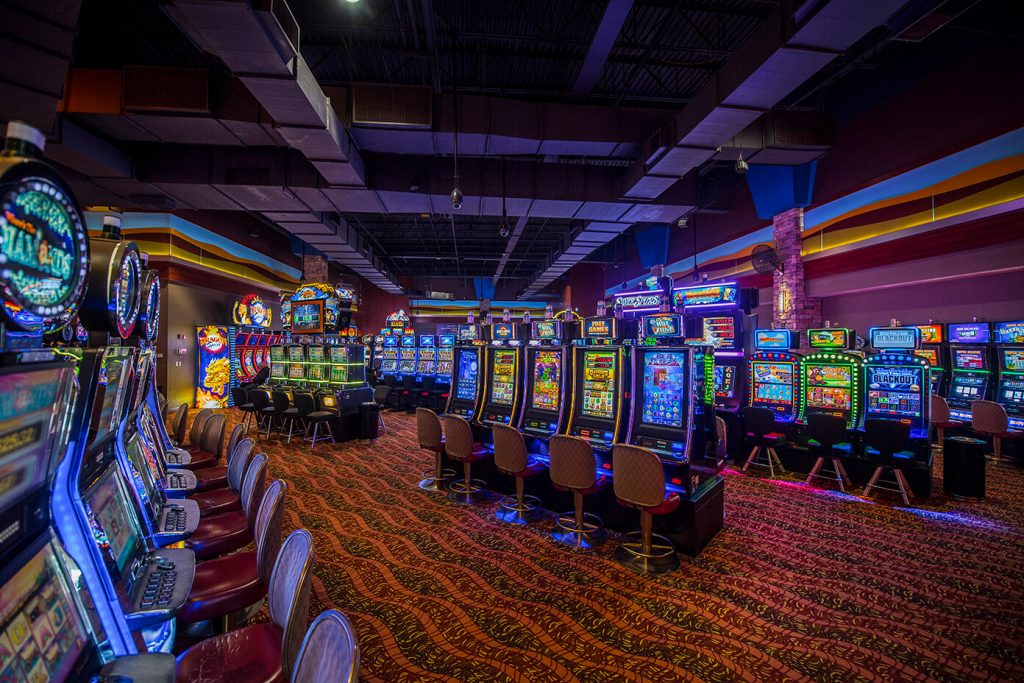 Slot Attendant & Hosts
Slot attendants handle the guest service for the slot machines at casinos. These team members work with slot hosts and are assigned specific machines to patrol. Their work involves guest service as well as maintenance of any damaged or broken slots, guest safety and handling any hand-pays for the guests. Slot hosts take things one step further. They help manage crowds and work to keep loyal guests coming back.
Casino Host
Casino hosts work on guest outreach and brand management. They set up VIP programs or any other loyalty program for their casino then work with those guests to help meet any of their specialized demands. To be fair, casino hosts do not spend all their time working on the high-paying, returning guest base; they try to work with and accommodate all their guests as well. Casino hosts may have booths set up near the entrance of the casino to attract your attention. Or, they may even walk around and spark up a conversation about the benefits of their new programs.
Casino Manager
Casino managers do just that, manage. They manage a specific cast of team members on scheduling, training and payroll as well as ensure a high-quality casino experience for their guests. These managers must be knowledgeable about the casino as a whole including HR responsibilities, general accounting, duties and tasks of their team members and much more. Although these positions pay well, they often come with their fair share of stressful work.
Pit Clerk & Boss
Pit clerks and bosses typically work together to ensure a safe, fun and fair playing environment for their guests. This means that the two keep close tabs on many of the table games checking for things such as improper dealing, cheating and proper game procedure. The work might seem similar to that of a security officer or surveillance operator, but pit clerks and bosses are generally focused on one individual table or area for an extended period of time.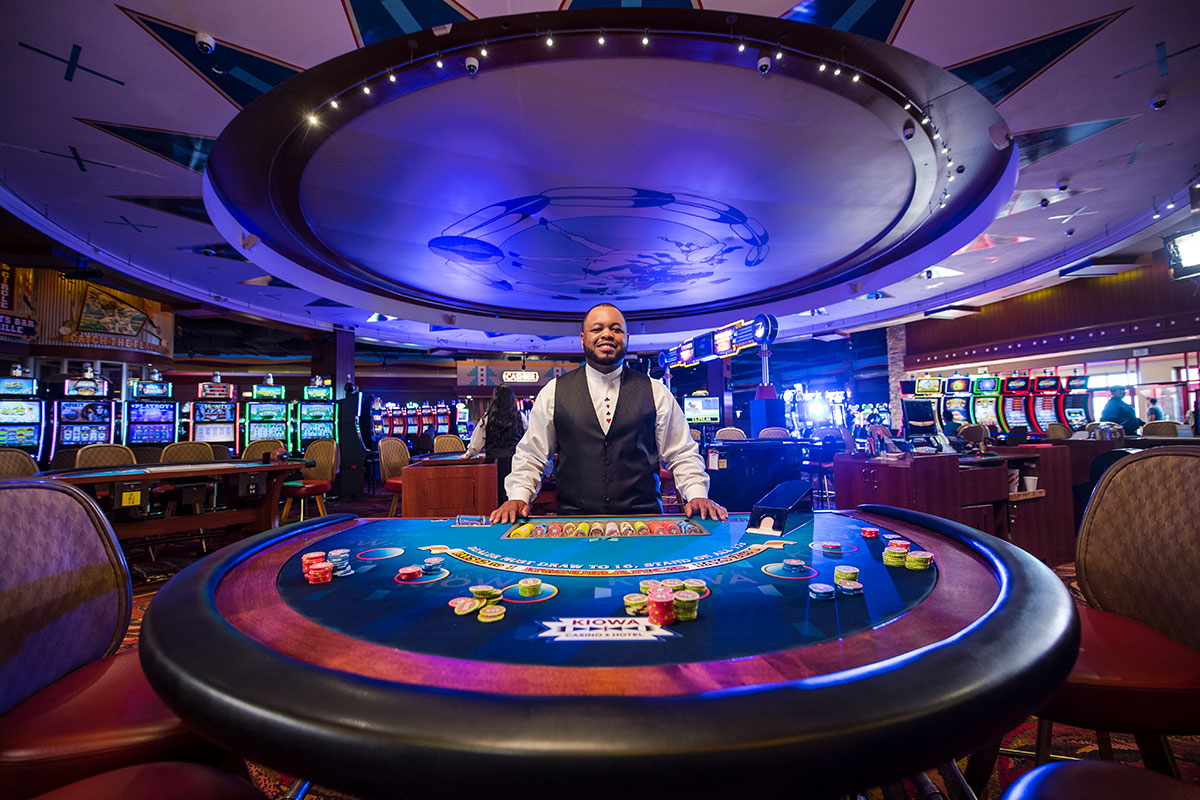 Dealers
When you think of a casino, do you think of a dealer dressed in nice suit, effortlessly shuffling and dealing a deck of cards? Dealers are by far the most popular position at the casino. Dealers engage directly with the guests on a variety of table games including blackjack, 3-card poker and blackjack. They are responsible for maintaining a clean and fair playing environment as well as creating an energetic atmosphere for their guests. Considering their earnings are largely dependent on tips, most dealers have nailed the energetic atmosphere. Not just anyone can work as a dealer. Aside from having the people skills to run a table, they must also be experts at the game they are playing. They must be smooth with the cards and make sure that their guests are following the rules.
Kiowa Casino & Hotel has it all – exciting games, fine dining and excellent service in Devol, Oklahoma. With both weekly and monthly promotions, Kiowa Casino & Hotel is sure to keep you entertained. If you are looking for a Las Vegas-style experience close to home, Kiowa Casino & Hotel is right for you. Learn more about our Casino and book your stay now.