You need a little excitement. And getting away is basically a hallmark of welcoming in spring.
Break, fling, getaway – whatever you want to call it – spend it at Kiowa Casino & Hotel in Devol, Oklahoma. Everything you need for a good time is here. From endless entertainment and delicious food to relaxing rooms for after the action. Plus, April happens to be a great time for scoring some extra casino perks.
So book that room. Pack that bag. Put your game face on, and hit the casino floor.
Before you do, we have a few pointers for your spring play and stay getaway.
Spring for a steak or seafood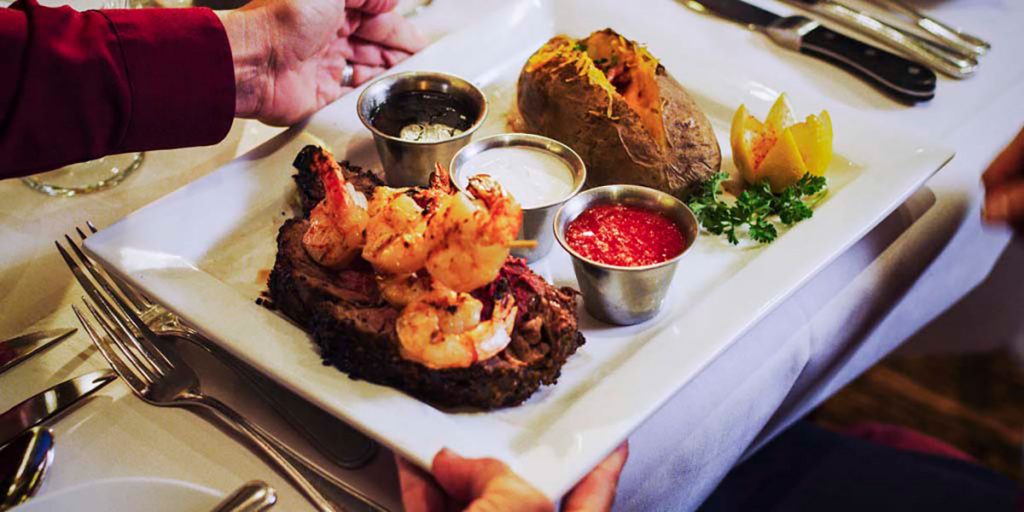 Or better yet, steak with seafood on top. A little spring surf and turf treat. You deserve it, and our Morning Star Steakhouse can deliver. All of our steaks have been aged 21 days, then hand-cut, trimmed and grilled over an open flame. And the seafood is fresh, cooked to perfection and never disappoints (you're going to want to try that cedar plank salmon).
Don't forget to give into that sweet tooth – that's what getaways are for. Opt for a generous slice of our house-made carrot cake to round out the meal. It's a showstopper.
If you're feeling a little more low-key than fancy, we respect that. In that case, you're going to want to head to the Winners Circle Cafe for juicy burgers and crispy fries. Pro-tip: before you hit the casino floor for day two – or hit the road – grab a breakfast burrito. Winners Circle has some great grab-n-go breakfast items 10 AM – 12 PM daily.
Bring on the Blackjack 6, 7, 8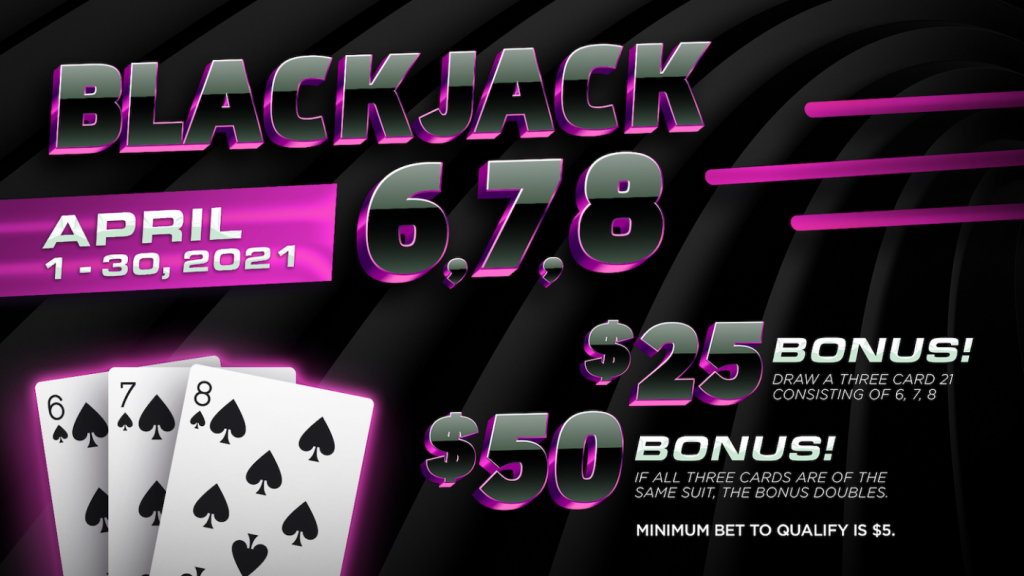 With even better odds at bonusing up – now is also the time to add some blackjack to your spring getaway agenda.
All month long, get a $25 bonus if you draw a three card 21 consisting of 6, 7, 8. And if all three cards are the same suit? You're looking at a $50 bonus. Only takes a minimum bet of $5 to qualify.
Time Warp to the 80s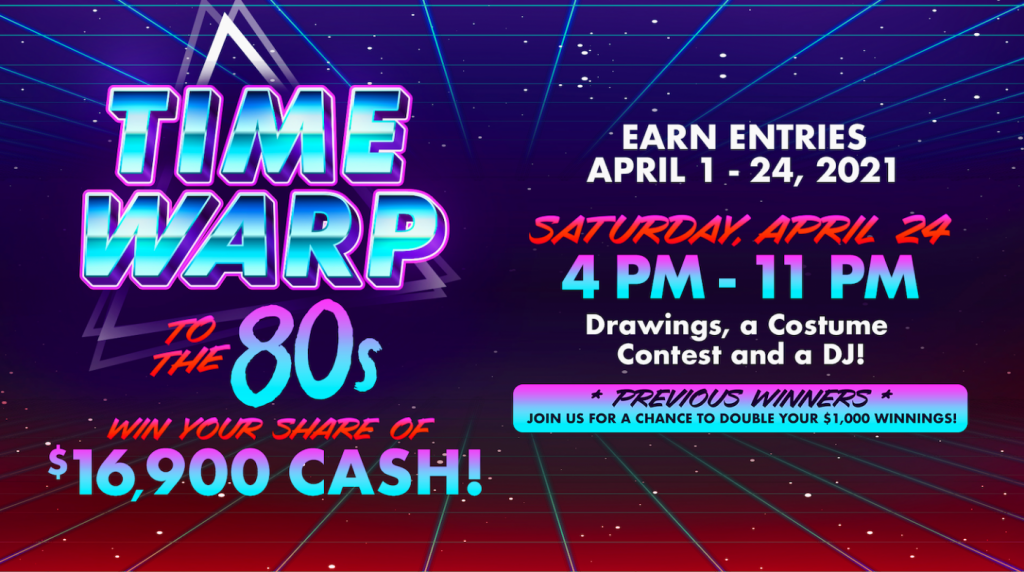 Time Warp continues in April – and this time, things are getting radical.

It's a great excuse to hit the casino as much as you can to earn entries April 1-24, and then plan your play and stay weekend in-line with our Time Warp celebration on April 24.
At the celebration, you could win your share of $16,900 in cash! Not too shabby. The party kicks off at 4 PM, with $1,000 cash drawings hourly until 11 PM, a costume contest and a DJ. We can just hear the hair band anthems and power pop ballads now.
If you want to up your odds of going home with more cash, then put on your best 80s digs for the costume contest. Shoulder pads. Acid-washed jeans. Spandex. Some neon and a Members Only jacket for good measure.
Our first-place winner will get $500 cash, with our runner-up scoring $300 and third place claiming $100.
And if you happened to be a March Time Warp winner, you'll have the chance to double your winnings.
Learn more about how to qualify here.
Cruise the cocktail menu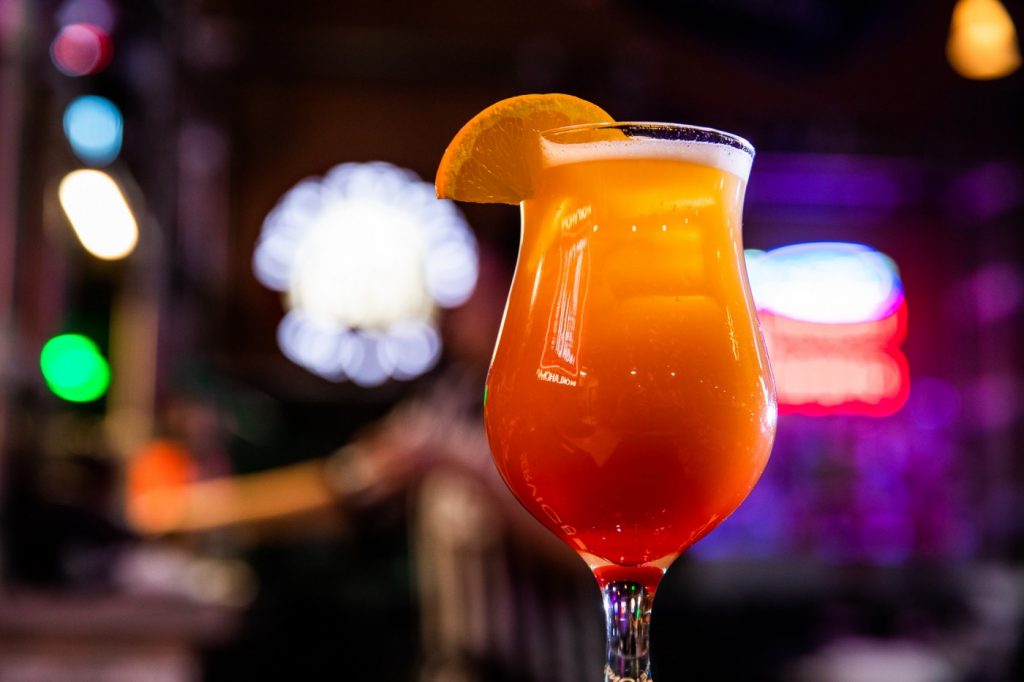 Toast to your time away from the real world with some real deal cocktails. The Bar can make pretty much anything your heart wants, but we do have some favorites.
Like BaeWatch – we're in it for the name, but also the rum. Or Hi-ya Mimosa, for when you're needing a brunchy beverage with more of a kick (hello champagne with a shot of Malibu). And then there are always our reliable standbys – the RedriverRita and the Kiowa Old Fashion. With 20+ specialty cocktails to choose from, and an extensive beer, wine and shot list, you'll definitely find something that suits your mood.
An added perk? You can sip your concoctions while hitting the slots and table games. We'll even deliver it right to your perch.
Kick back in a king size bed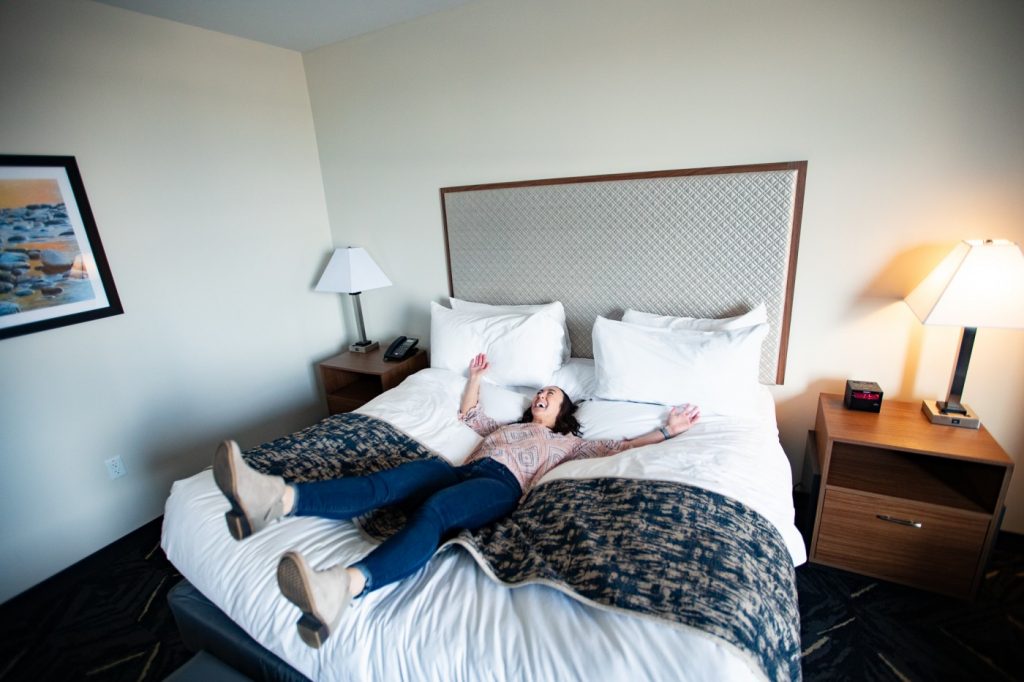 R & R after going hard on the casino floor is a no-brainer. Especially when we have some comfy king sized beds at our hotel. Free wifi and 43-inch LED TVs made for binge watching before you fade off into slumber thanks to a spring getaway well spent at Kiowa Casino & Hotel.